Russian Research Ship Readies for Float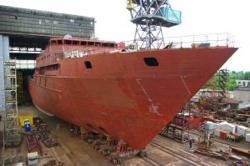 Research ship 'Yantar' has left covered workshop of JSC Yantar Shipyard and has beeb moved to open slipway
Research ship Yantar is the lead Project 22010 oceanographic vessel developed by Almaz Central Design Bureau. The ship was laid down on July 8, 2010 on the 65-th anniversary of Yantar Shipyard and named after it. The orderer was obtained from the Russian Defense Ministry. According to the contract, the ship is to be delivered in 2013.
The hull of Yantar has been completely shaped; most of general-purpose equipment, rudder propellers, and lateral thrusters have been installed. Shipwrights continue the construction of the superstructure and fitting of internal equipment.
Before the ship is launched, the yard's staff and contracting organizations will have to install all basic equipment and start to lay feeder mains, to assemble pipelines, and to insulate premises.
Although moving of the 2,000-ton hull took less than an hour, it needed thorough preparation. The hull was placed at a pre-launch position to be put afloat in Aug 2012.