Dubai Maritime City To Develop "The Dolphin Residence"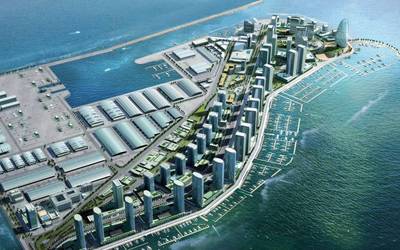 Dubai Maritime City (DMC), the world class maritime cluster in the heart of Dubai, today announced its partnership jointly with Sharaf Investments and Al Ali Property Investment (API) to develop "The Dolphin Residence" within the City, into a high-end iconic Freehold mixed use development complete with offices, private residences, a four star hotel, shopping mall, mosque, parking lot and leisure facilities. The partnership deal was signed by Khamis Juma Buamim, Chairman, Dubai Maritime City and Mr. Sharafuddin Sharaf, Vice Chairman of Sharaf Investments & Mr. Mohammed Abdulrahim Al Ali, Chairman of the Board Al Ali Property Investment (API).
The project will begin immediately and the building, with an approximate allowable built up area of 1,384,496 sq. ft , will be redesigned and remodeled in a phased manner with the initial phase concentrating on the re-doing of the interiors based on contemporary interior design concepts and including the latest materials. The project will be completed within three years with the exterior façade of the building to become an architectural landmark. In line with promoting the maritime culture and ethos of Dubai, which is one of the key objectives of DMC, ship owners, ship management companies, marine protection and insurance and ship operators can rent or buy office space at preferential rates. This will in turn encourage the world maritime community to take note of the innumerable advantages of being based at the Residence in close proximity to a thriving maritime hub.
His
Excellency Khamis Juma Buamim
, Chairman
Dubai Maritime
City underlined the importance of the deal and said; "This partnership will help to develop a new model of cooperation in developing the maritime sector and strengthen it in accordance to the vision of our wise leadership. The maritime industry is one of the major sectors in the emirate and this project, without a semblance of doubt will be a defining development that will add to the unmatched lifestyle within the vibrant maritime culture and environment that Dubai Maritime City nurtures. We have envisaged a superior development with superb finishes, exemplary décor and a range of amenities suited to modern living. It will add value to the industrial and business district of Dubai Maritime City, which is already seeing rapid development and progress."
"We are proud to be part of this great venture," said Mr. Sharafuddin Sharaf, Vice Chairman of Sharaf Investments, on behalf of Sharaf Investments and Al Ali Property Investment, the Development partners. He added, "We would like to thank Dubai Maritime City for their trust shown by awarding this project to us. We would like to thank HE Khamis Juma Buamim and the Dubai Maritime City team for their support to bring the vision of HH Sheikh Mohamed to reality. We look forward to working with Dubai Maritime City to make this project a hub for the Maritime industry."
Dubai Maritime City, which is over 2.27 million square metres in area, has been reengineered to encourage a community lifestyle supported by a superlative infrastructure for the marine industry and business, The development offers a conducive environment for modern living that balances working and living conditions as it provides facilities for office, residential, retail, recreational and leisure purposes. Additionally there are innumerable advantages of being situated on the Jumeirah coastline, close to the heart of the trading hub of Dubai, in close proximity to the international airport and cruise line hub at Port Rashid all of which offer excellent connectivity to regional and international business centres and significant networking and logistics opportunities.