Nearly $140m Proposed for GoM Restoration Work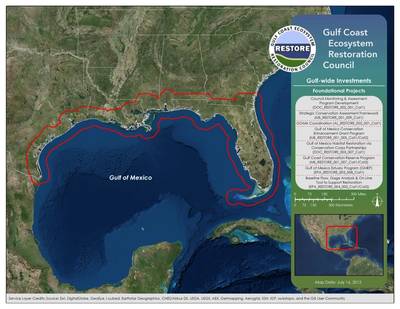 U.S. Secretary of the Interior Sally Jewell Thursday commended the Gulf Coast Ecosystem Restoration Council for issuing its initial list of proposed projects for natural resource restoration for Gulf Coast communities in the wake of the Deepwater Horizon oil spill.
The RESTORE Council proposed using approximately $139.6 million from the recent settlement with Transocean Deepwater, Inc. to support restoration projects in key regional watersheds. Interior's role in these projects is primarily focused on resiliency building efforts across the Gulf Coast.
"From Texas to
Florida
, the RESTORE Council is committed to recovering the health and resilience of the
Gulf of Mexico
," Jewell said. "These important projects are focused on improving both water quality and wildlife habitat. Because of the direct connection between the environment and the economy in the Gulf region, these projects also help provide long-term economic benefits to local communities."
The RESTORE Council was created under the 2012 Resources and Ecosystems Sustainability Tourist Opportunities and Revived Economies of the Gulf Coast States Act (RESTORE Act), which directed the Council to dedicate 80 percent of all Clean Water Act penalties relating to the Deepwater Horizon oil spill to the fund it oversees.
As a member on the Council, Interior was actively engaged in developing restoration proposals for the first draft of the Initial Funded Priorities List (FPL) of projects.
Some of the projects reflect Interior's priorities for building climate resilient habitats, which include efforts to conserve existing habitat, restore and rebuild degraded habitat, support tribal responsibilities and provide science-based information to ensure future projects are built on a solid foundation.
The projects also focus on investments in water quality improvements and hydrologic restoration across the Gulf, which will provide direct benefits to millions of migratory birds and hundreds of federally-listed, at-risk species that call the Gulf home.
Additional proposed projects include: important restoration work to plug 11 abandoned oil and gas wells, backfill more than 16 miles of abandoned oil and gas canals, establish minimum monitoring and data standards for restoration work and develop conservation planning tools to assist in the identification and evaluation of future land conservation proposals in the Gulf Coast region.
Interior also plans to partner with Council members to create a proposed $8 million
Gulf Coast Conservation
Corps, which would provide job skills, training and education to youth in the region. Also, under this restoration-related corps plan, $500,000 would be set aside to create a tribal youth conservation corps along the Gulf Coast. "While the primary goal is to restore the Gulf, it is also our responsibility to restore opportunity to the people who have been most impacted by the spill," Jewell said. "Providing job training skills can enhance people's ability to engage in the long-term Gulf restoration effort to help families, bolster local economies, and lead to a more resilient coast."