Excel Maritime Files Chapter 11, Plans Financial Re-structuring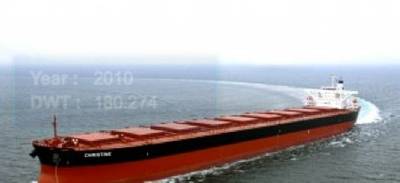 Excel Maritime Carriers, owners & operators of a large fleet of dry bulk carriers, become the latest casualty of the downturn in the shipping industry, but sets financial plans for recovery.
The company says t has reached an agreement in principle with a steering committee of its senior lenders on the terms of a financial restructuring to strengthen its balance sheet.

Under the terms of the agreement Excel will receive:
Up to $50 million infusion of capital as a result of an agreement between the senior lenders and an entity affiliated with the family of Gabriel Panayotides, Excel Maritime's Chairman of the Board of Directors. Under the terms of that agreement the entity affiliated with the family of Mr. Panayotides will receive a majority of the equity in Excel.
The release of an additional $30 million of currently restricted cash.
As part of the agreement, the Company's senior lenders' steering committee has agreed to an extension of the maturity of the company's senior secured facility through 2018 as well as significant amortization and covenant relief in line with the current outlook of the market. The senior lenders will receive an equity stake in the Company, while current management continues to operate the business.

"We are pleased to have reached this agreement with our senior lenders' steering committee," said Mr. Panayotides. "Like other companies in our industry, Excel Maritime has been impacted by macro-economic conditions that have led to volatility and overall declines in charter rates. Securing up to $80 million of additional liquidity significantly strengthens our financial profile and positions Excel Maritime for future growth and success."

"We look forward to maintaining our strong relationships with charterers, reflecting the Company's superior worldwide fleet operation and performance. As always, Excel Maritime remains committed to providing high-quality and efficient seaborne transportation services to our clients without any interruption in operations."

Excel and certain of its subsidiaries are commencing solicitation of senior secured lenders and other creditors in order to implement the restructuring through a court supervised prepackaged plan of reorganization.

The company currently owns and operates a fleet of 38 vessels (six Capesize, 14 Kamsarmax, 14 Panamax, two Supramax and two Handymax vessels), one of which, a Capesize vessel, is owned by a joint venture in which Excel holds a 71.4% interest, with a total carrying capacity of approximately 3.6 million DWT.