Keppel Retrofit VLCC BWTS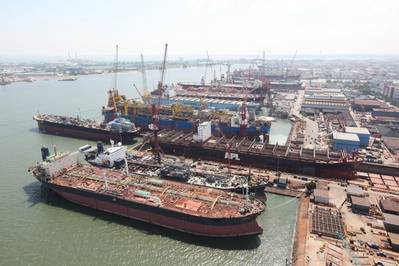 Keppel Shipyard undertakes Singapore's first Ballast Water Treatment System (BWTS) retrofit project for a VLCC.
MOL Tankship Management (Asia) Pte Ltd (MOL) has awarded Keppel Shipyard with a landmark Ballast Water Treatment System (BWTS) retrofit project. This is the first BWTS retrofit for an existing Very Large Crude Carrier (VLCC) owned by a Japanese shipowner as well as the first such installation to be undertaken in Singapore.

The BWTS to be installed is the JFE Ballast Ace system, which was selected by MOL and supplied by JFE Engineering Corporation.
The yard's work scope for the MOL VLCC – expected to arrive at Keppel Shipyard in this month – includes the installation of oxidising and reducing agent tanks, pipes, filters and a control system.

Mr Chor How Jat, Managing Director of Keppel Shipyard, said, "We have serviced more than 200 vessels for the MOL Group since early 2000, when our companies signed a long-term fleet agreement. We are glad to be entrusted with this retrofit project, which bears testament of MOL's trust and confidence in our capabilities.

Keppel Shipyard is a subsidiary of Keppel Offshore & Marine Ltd (Keppel O&M), a wholly-owned company of Keppel Corporation Limited. Keppel O&M is a leader in offshore rig design, repair and construction, shiprepair and conversion and specialised shipbuilding.