Rickmers-Linie Wins Best Shipping Line Again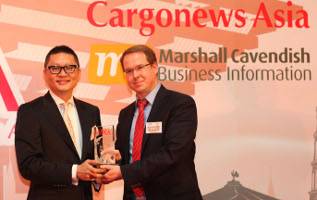 For the second time in a row, Rickmers-Linie, the breakbulk, heavylift and project cargo specialist headquartered in Hamburg, won the category Best Shipping Line - Project Cargo in the annual Asian Freight & Supply Chain Awards (AFSCA). In a gala dinner held on 10 June 2010 at the Renaissance Shanghai Pudong Hotel, Dirk Wittkowski, Senior Representative of Rickmers-Linie in China, accepted the award from Caesar Yiu, Global Director Leasing at Thermo King in front of an audience of some 400 guests from the shipping, transport and logistics industry.

Rickmers-Linie has just launched a new service, linking North Asia with South America and the U.S. East Coast, thus providing more flexibility and space to Asian shippers. Base ports of Rickmers' new NCS Service in Asia are Moji, Kobe, Yokohama and Nagoya in Japan and additional ports can be called on inducement. In Asia, for example, the monthly schedule permits calls in Northern China (Shanghai - Dalian range) and in South Korea. The new NCS service will employ four vessels, each capable of lifting 120-tonne indivisible loads and featuring stern ramps for rolling cargo.

In addition to the newly launched NCS Service and its Pearl String service, Rickmers-Linie offers services from Europe to the Middle East and India, as well as from the US East Coast to Northern China, South Korea and Japan.