First Shippers Sign on Rolls-Royce Autonomous Ship Project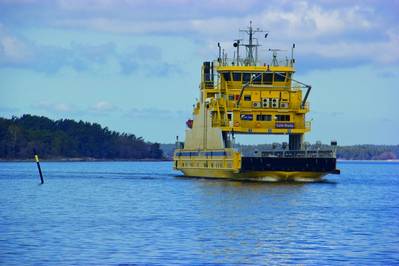 The Advanced Autonomous Waterborne Applications Initiative (AAWA) project, led by Rolls-Royce, introduced the project's first commercial ship operators: ferry operator Finferries and dry bulk cargo carriers ESL Shipping Oy. The announcement came at a conference presenting the findings of the initiative's first year of research at Helsinki's Finlandia Hall last week.
The AAWA project brings together universities, ship designers, equipment manufacturers and classification societies to explore the economic, social, legal, regulatory and technological factors which need to be addressed to make autonomous ships a reality. It will produce the specification and preliminary designs for the next generation of advanced ship solutions.
Finferries will assist the project by carrying out a series of tests of sensor arrays in a range of operating and climatic conditions on board their 65 meter double ended ferry, the Stella, which operates between Korpo and Houtskär.
Mats Rosin, Finferries, Managing Director, said, "Finferries is pleased to be able to contribute to the development of a safer shipping industry by finding the optimum, cost effective, combination of visual and thermal cameras, radar and LIDAR to enhance mariners' situational awareness, helping them navigate safely and avoid collisions."
ESL Shipping Ltd will help the project explore the implications of remote and autonomous ships for the short sea cargo sector.
Mikki Koskinen, ESL Shipping Oy, Managing Director, said, "We have seen increasing interest in, and acceptance of, remote and autonomous technologies worldwide across the transport and logistics industries. While not all ships will be remotely operated or autonomous, these developments have the potential to transform mariners' jobs for the better. The work will not disappear but it will be different and more attractive to younger generations. By participating in the AAWA project we will get an early insight into the impact of such transformation on our industry, our business and the lives of the people who work in it."
Welcoming the companies to the project Mikael Makinen, Rolls-Royce, President – Marine, said, "Autonomous shipping is the future of the maritime industry. As disruptive as the smart phone, the smart ship will revolutionize the landscape of ship design and operations. I welcome the involvement of both Finferries and ESL Shipping and look forward to the commercial experience and industry insight they will bring to the project."