Rolls-Royce to Power New Cruise Ferries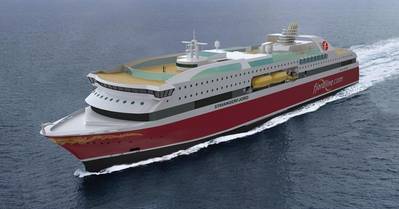 Rolls-Royce signed a contract with ship owner Fjord Line A/S to install LNG based power and propulsion systems in two cruise ferries being built at the Bergen Group Fosen AS yard in Norway. Each vessel will be equipped with four gas engines, powering a highly efficient Promas integrated rudder and propeller propulsion system.
The gas-only fuelled engines will reduce Nitrogen Oxide (NOx) emissions by about 90 percent while Sulphur Oxide (SOx) and particulates emissions will be negligible. Emissions from Rolls-Royce gas engines are already within the limits of IMO (International Maritime Organisation) Tier III environmental legislation, due to come into force in 2016. Rolls-Royce General Sales Manager Merchant & Navy Engines, Odd Magne Horgen said: "These vessels are the first international LNG fuelled passenger vessels in operation, and we are very pleased to be a part of this ground breaking project."
Chief Executive of Fjord Line A/S Ingvald Fardal, said: "Fjord Line has a clear environmental strategy and choosing single fuel gas engines makes us pioneers in the cruise ferry industry. We will have the first and the largest cruise ferry ever to run on LNG as the sole fuel type. Rolls-Royce is the leading manufacturer of these well proven gas engines and we are very pleased to have their technology onboard."
Fjord Line has chosen this gas solution because of its operational efficiency and low NOx emissions; in addition to the proven performance of similar systems onboard other ferries that maneuver in and out of highly congested ports. Each of the vessels will have a deadweight of 4000 tonnes and a length of 170 metres. They will have 306 cabins, and room for 1500 passengers and 600 cars. The first ship, MS Stavangerfjord, will enter regular service operating out of Bergen, Norway, in May 2013. MS Bergensfjord will be ready to sail a few months later.
The scope of the Rolls-Royce delivery is four Bergen BV12PG engines rated at 5,6MW each, 2x296cbm LNG tanks with ACON-Gas control system, 2 x shaftlines PROMAS including CPP, rudders and steering gear as well as tunnel thrusters.