Rolls-Royce Ship Lifts to Middle East Yards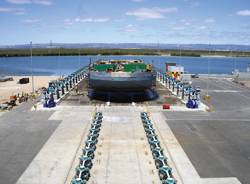 Rolls-Royce won contracts to supply Syncrolift ship lifts to two shipyards in the Middle East.
One order, from Damen Shipyards Sharjah FZE (DSS) will see a Syncrolift designed and installed at Hamriyah Free Zone shipyard at Sharjah, in the United Arab Emirates. This installation, with a docking platform of 120 metres in length and a width of 26.5 metres will be the sixth Rolls-Royce Syncrolift installed in the UAE and it will be operational by the end of 2012.
The second contract, awarded by Zamil Offshore Services, involves the installation of a ship lift with a platform 102 metres long and 32 metres wide at a new shipyard, which is being constructed in King Abdul Aziz port, Dammam, Saudi Arabia. Zamil Offshore already operate one Rolls-Royce ship lift, and this order will bring the total number of systems installed in Saudi Arabia to five. Commissioning of the Syncrolift® is planned for 2013.
The latest orders are for Syncrolift systems that can handle vessels weighing up to 5,000 tonnes. Associated transfer systems allow suspended vessels to be moved around within the confines of a shipyard, increasing efficiency and reducing drying-docking times.