Rolls-Royce Rewards School's Science Teaching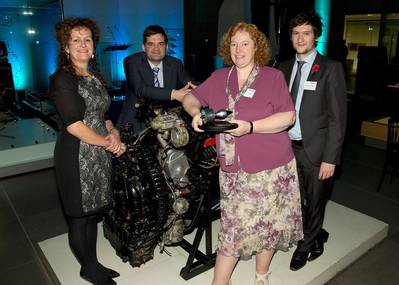 UK school, the Dr Thomlinson Church of England Middle School from Rothbury, Northumberland, has been named as the winner of the 2013 Rolls-Royce Science Prize; an annual competition which celebrates and rewards excellence in science teaching. Each year, Rolls-Royce awards a total of £120,000 in cash prizes to schools who implement motivational science teaching.

2,000 schools and colleges registered for this year's prize, and the winning school was selected from a group of nine finalists who attended an awards ceremony at London's Science Museum. Dr Thomlinson Church of England Middle School received the winning prize of £15,000 to advance science teaching in their school, along with an invitation to spend a day with the Red Arrows. Simon Langton Grammar School for Boys, from Canterbury, Kent, received the runner up prize of £10,000.

The Rolls-Royce Science Prize was set up in 2004, as part of the company's ongoing drive to promote science and engineering in schools by encouraging and rewarding inspirational science teaching. The science prize is open to all schools and colleges in the UK whose teachers attend courses at the National Science Learning Centre's. To date, over £940,000 in prize money has been distributed to over 400 schools across the UK. Rolls-Royce employees also act as mentors to provide support to the schools throughout their projects.

Victoria Sharkey, Head of Science at, Dr Thomlinson Church of England Middle School, said: "I'm overwhelmed with this win and delighted to accept the science prize on behalf of our teachers and students. We will use this prize to help other teachers follow in our footsteps. It's important that we encourage schools to review their style of teaching so we can work together to inspire the next generation of scientists and engineers and prepare them for jobs in the 21st century."