Ship Equip Opens Rotterdam office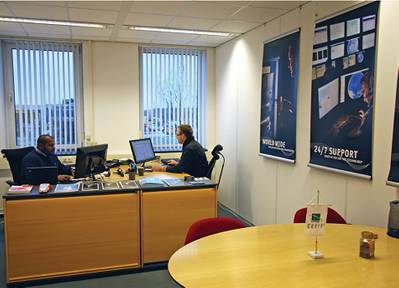 In response to a rapid increase in activity in the Central european area, ship equip opens offce in strategically located Rotterdam, the Netherlands.
The activity increase comes as a result of the steady growth of customers in the region, as well as the high number of ships calling by rotterdam as a destination or en-route. it provides a favorable opportunity to carry out installation and maintenance work. it will be fully operational from the 1st of February 2011.
The Rotterdam offce will primarily handle service issues, but with its location in a major shipping hub it is a convenient location for other parts of the ship equip organization. The offce will be handled by service manager kenneth borgen and on-site station manager Roger Sandnes.
This means we can act faster in response to customer needs since we will have both parts and personnel stationed at this offce says service manager kenneth borgen. it will also mean some increased fexibility when handling ships in the rotterdam area. An additional beneft is the reduced travel time and travel cost. In periods of air transport disruptions we will also have an improved presence.
We firmly believe that this offce will be an important and valuable addition to our already capable service organization, and that it will be to the benefit of our customers says COO esben Flo. With the level of activity we have reached in ship equip it was the right time to open an offce in Central europe. Our strategy is to provide a high service level to our customers. rotterdam was chosen since we have a number of customers with headquarters in this region and a large number of ships pass by port of rotterdam.
Source: Ship Equip