Van der Velden in Pole Position for 'Ahoy Rotterdam 2013'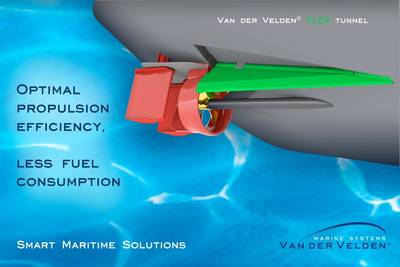 Van der Velden Maritime Systems will be showcasing a selection of their vessel propulsion products at upcoming 'Ahoy Rotterdam', 5-8, November 2013 at booth 1405 in Hall 1. The company has also been selected to participate in the Green Route.
Van der Velden will present information, about its products including the Velden® FLEX tunnel manoeuvring and propulsion system, which is designed for inland and coastal ships, and offers tremendous advantages in the expansion of capacity, fuel consumption, speed and manoeuvrability. The tunnel has been developed in close collaboration with the renowned German research DST (Development Centre for Ship Technology and Transport Systems). A newly developed digital presentation shows the working of the the tunnel.

Presentation during the Advanced Technology Conferences
Edwin van Buren, Director Research & Development, will give a presentation about innovative flexible manoeuvring and propulsion solutions during one of the Advanced Technology Conferences. This presentation will be held on Thursday afternoon from 14.55 till 15.15 in the Europort Theatre. No registration or admission needed.


Participation in the Green Route
Van der Velden Marine System's booth is included in the Green Route. Visitors who follow the Green Route can see the latest sustainable products in the field of shipping. Products of Van der Velden Marine Systems that have these sustainable and environmentally friendly properties, are the retractable Van der Velden® FLEX tunnel system, the green BARKE® rudder and the, in cooperation with MMG developed propulsion package ESPAC™ (Energy Saving Package).