Cruise Ship Rescues Sailboat Crew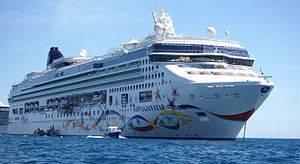 Norewegian Cruise Line's 'Norwegian Star' rescues crew of sailing yacht NW of Bermuda in a USCG coordinated AVMER operation
Coast Guard watchstanders received notification from crew aboard the sailing vessel Avenir that they were disabled, adrift and had crewmembers needing medevacs, adding that they had lost their rudder and two of the six crewmembers showed symptoms of dehydration and seasickness.
The Coast Guard sent out an enhanced group call and used AMVER, the Automated mutual-assistance vessel rescue system to contact vessels in the area. The cruise ship Norwegian Star responded to the request for assistance and altered course to intercept the disabled yacht, and later successfully took the crew off.
"The support the Coast Guard receives through the AMVER program is unprecedented," said Lt. Christopher Svencer, a Coast Guard 5th District watchstander. "Without their cooperation, offshore search and rescue cases like this would be impossible."
This is the second rescue within three days that AMVER has assisted those at sea.