SaveOurSeafarers Campaign Responds to Piracy Threat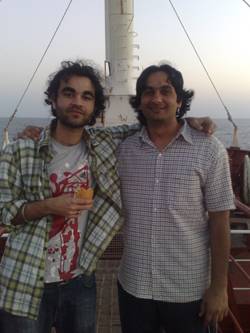 62 seafarers have died in the past four years as a direct result of piracy in the Gulf of Aden and Indian Ocean, through deliberate murder by pirates, suicide during the period of captivity, death from malnutrition and disease, death by drowning, or heart failure just after the hijacking. This figure has prompted the shipping industry's SOS SaveOurSeafarers campaign to give even greater emphasis to its worldwide call for government action to tackle the issue.

"During this same period, over 3,500 seafarers have been kidnapped and held hostage by pirate gangs, who subject them to traumas such as being used as human shields, being forced to operate their ship as a pirate mother ship under pirate control, and to extreme mental as well as physical anguish," says Giles Heimann, Chairman of the SOS SaveOurSeafarers campaign.

"Hundreds of these seafarers have been subjected to horrific torture including being hung by the ankles over the side of the ship, being shut in the ship's freezer room, having cable ties tightened round the genitals, being beaten, punched and kicked. Many of these seafarers remain traumatised and unable to return to their seafaring careers long after the hijack is over, if at all."

Dipendra Rathore (left), a 22 year-old Indian deck cadet, was held hostage for 8 months on board the Merida Marguerite. He is just one of the pirates' victims.

"At my age you can still bear pain … watching people twice my age being tortured, crying and begging for help is what really measured me. I felt so bad for them but I could do nothing about it, except for praying ... and then came the time when I lost faith and stopped praying too."

Dipendra has found his faith again, and he is one of those who refuses to let these thugs win and is determined to go back to sea. Others may never recover from the psychological damage and will lose their livelihood rather than go back to sea.

Heimann continues: "It is terrible, and completely unacceptable, that ordinary people going about their everyday work should have to encounter such horrors. There are more than 100,000 seafarers at any one time either preparing to go through this area (training and effecting the so-called 'hardening' of the ship with physical defences), or actually transiting these waters. Taking their families' feelings into account, you have up to half a million people every day gripped by fear due to Somali piracy."

The shipping industry continues to recognise and appreciate the constructive and supportive role played by the naval forces in this area. But their effectiveness is impeded by the lack of political will in many governments to authorise the arrest and prosecution of detained pirates caught red handed. This in turn restricts naval/military operations to no more than a 'catch and release' exercise that deters and disrupts the pirates only to a limited extent. The vast majority of pirates caught are released in this way.

These 62 tragic deaths come as a direct consequence of pirate actions, but it is government inaction that has allowed piracy to spiral out of control in this area. It's time to stop this outrage. It's time for governments to take action. It's time for each one of us to stand up for the seafarers who bring us almost all our daily material needs.