Webb Institute Names McMullen 2013-14 Scholarship Recipients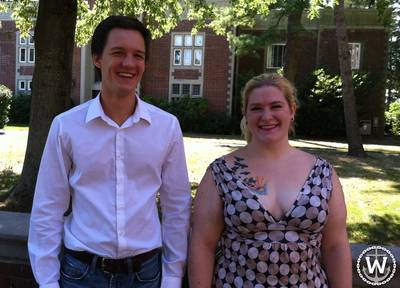 Webb Institute, a 4-year college specializing in Naval Architecture and Marine Engineering, is pleased to announce that seniors Henry Jansen, from Bayville, NY, and Elli Wunder from North Bend, WA have been named the recipients of the 2013 – 2014 McMullen Family Foundation Scholarship.
The McMullen Family Foundation Scholarship Program was established at Webb Institute in 2009 to help off-set room and board expenses. These scholarships are awarded annually to two outstanding Webb students and reflect the Foundation's commitment to supporting institutions of higher education.
"We are extremely proud of our relationship with the McMullen Family Foundation. The McMullen Family Foundation Scholarship Program is a testament to Mr. John McMullen's commitment to higher education and the maritime industries. Webb Institute is honored to be part of this prestigious program," stated R. Keith Michel '73, President of Webb Institute.

"Webb is committed to a need-blind admissions policy. Through this scholarship program, deserving students that may not have been able to afford a higher education are given the opportunity to fulfill their potential," he added.

About Webb Institute
Webb Institute is a top-ranked undergraduate engineering institution offering one academic option, a double major in Naval Architecture and Marine Engineering. All admitted students receive a full-tuition scholarship. The college was founded in 1889 by William H. Webb, the preeminent American shipbuilder of the 19th century. It is located on the grounds of the former Herbert L. Pratt estate, "The Braes," in Glen Cove, NY, on the Long Island Sound.

For additional information about Webb Institute visit: www.webb-institute.edu or contact Ms. Kerri Allegretta at kallegretta@webb.edu