Scrabster to Partner with Hugh Simpson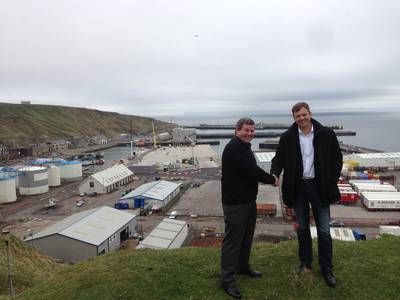 NorSea Group, a supplier of base services and integrated logistics systems to the Norwegian oil and gas industry, has followed last month's announcement that it is to develop a supply base at Scrabster Harbor, by signing its first strategic working partnership with local logistics firm Hugh Simpson (Contractors) Ltd.

Established in 1964, the company provides a total range of logistics services to the marine and offshore industries. It has two sister companies which provide fuel and oil supply and shipping agency services in the region.

The supply base at Scrabster is NorSea Group's first in Scotland and will operate as a one-stop supply base serving the oil and gas, decommissioning and renewables industries. Its geographical location as Scotland's most northerly mainland port means it will be of particular economic benefit to operators in the northern North Sea and West of Shetland offshore developments by cutting down on transit time to the nearest mainland port and by its ability to provide a fast "burn and turn" turnaround.

NorSea Group already operates nine supply bases along the coast of Norway which provide logistics support to companies operating offshore on the Norwegian continental shelf. Knut Magne Johannessen, Director International and Project Operations, said the partnership with Simpsons was a significant step forward in the plans for the Scrabster base.