Saint John NB Sees Season's First Cruise Ship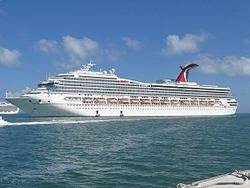 The first cruise ship of the year, 'Carnival Glory' made its way into Saint John Harbour recently bringing 3,000 guests to the Port City
The Carnival Glory is the first of 73 cruise ships that are expected to make a stop in Saint John this summer, informs CBC News.
More than 187,000 passengers are expected to visit Saint John between now and the end of October.
Melanie Colpitts, a spokesperson with Aquila Tours Inc., said it takes all winter to prepare for their arrival."We do a lot of training with our tour guides, from the tiniest details of having buttons and stickers, to keeping our guests organized, to the big things like making sure we've got all of the buses," she said
Clive Douthwright, a greeter in the city, said he looks forward to the stampede of passengers coming off the ships.