Ship Safety Core of IMO Sec-Gen's New Year Address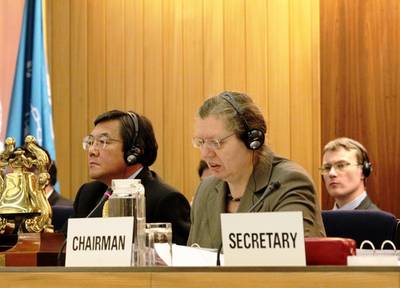 Speaking at the first meeting of the newly-formed IMO Sub-Committee on Ship Design and Construction, IMO Secretary-General Koji Sekimizu has delivered his New Year Address outlining some of the targets, challenges and priorities the Organization in year 2014. Extracts from his speech with a direct bearing on maritime safety follow:

Mr. Sekimizu recalled that he was speaking on the day of the 100th anniversary of the adoption of the first ever Safety of Life at Sea Convention (SOLAS), which was a direct response to the sinking of the Titanic in 1912. He recalled the grounding of the Costa Concordia just two years ago and reiterated that lessons must be learnt from that casualty investigation report.

In a clear message to delegates and the industry, he posed the question, "are we doing any better than our great grandfathers in our mission to enhance the safety of passenger ships?" In this context, he looked forward to the debate at this year's Maritime Safety Committee meetings on the safety of large passenger ships, covering all aspects including, design, damage stability, operation and management.

Mr. Sekimizu also called for an accelerated investigation into the structural failure and eventual total loss of the containership MOL Comfort in the Indian Ocean last year. This was a particular cause for concern, he felt, as this was a relatively young vessel.

Further, Mr. Sekimizu repeated his call of last year, made at IMO's Future Ship Safety Symposium, for serious efforts to begin to develop a "new concept" of ship safety. This, he said, could be enshrined in a new SOLAS Convention to be adopted in 2024, which would mark 50 years since the adoption of the current SOLAS Convention – SOLAS 1974. Mr. Sekimizu urged IMO Member Governments and the shipping industry to put forward contributions on the subject for discussion at the next session of the Maritime Safety Committee.