US 'Great Green Fleet' Visit by SECNAV, CNO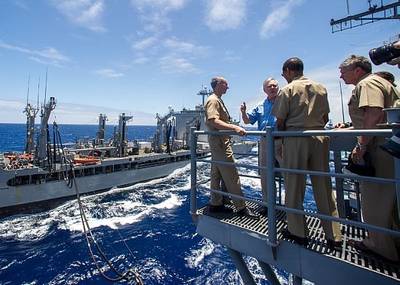 The Secretary of the Navy & Chief of Naval Operations visit USS Nimitz for RIMPAC bio-fuel demonstration
The Secretary of the Navy, the honorable Ray Mabus, and Chief of Naval Operations Adm. Jonathan Greenert, visited the aircraft carrier USS Nimitz (CVN 68) for the Navy's Great Green Fleet demonstration during Rim of the Pacific (RIMPAC).
The Great Green Fleet demonstration is a step towards the Department of the Navy's goal to reduce consumption of energy, decrease reliance on fossil fuels and significantly increase the use of alternative energy.

Greenert emphasized the importance of the Navy's biofuel initiative and its importance for the Navy's future energy plan.


"Biofuel is made with algae, plants and animal fat. We'll be using a 50-50 mixture of that to show that in fact there is an alternative to petroleum products," said Greenert. "We've got to look for alternative fuels, we've got to look for alternative opportunities, and we've got to be efficient in energy." 

Nimitz took on more than 180,000 gallons of 50-50 biofuel, a new blend of hydro processed renewable jet (HRJ-5) and aviation (JP-5) fuel July 17, in preparation for the Navy's Great Green Fleet demonstration.

Mabus spoke about how biofuels are a "drop-in" fuel and will not change operations at all. 

"We don't have to change the operations, and we don't have to change anything that we are doing," said Mabus. "The fuel is used in exactly the same way, by the same platforms and by the same engines."