Second Superferry Launched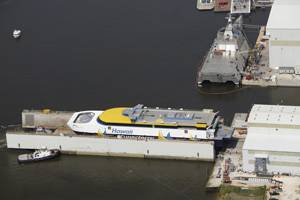 The second of two high speed vehicle-passenger catamarans for Hawaii Superferry has been launched at Austal USA. The achievement comes just months after Austal successfully launched the LCS Independence – a state-of-the-art near-shore combat ship built for the US Navy.
With a service speed of 40 knots and the capacity to transport 866 passengers and 282 cars, the high speed catamaran joins sister vessel "Alakai" - which was delivered to Hawaii Superferry last year - as the largest aluminium catamaran ever built in the US.
While sharing a similar specification to its sister vessel, the 113 metre high speed ferry is fitted with a 20 metre stern quarter, bi-fold ramp, for use in austere ports without shore-side loading facilities. The hydraulically operated aluminium ramp has a clear width of 4.5 metres and is designed for 42 metric ton trucks.
Powered by four MTU 20V 8000 M70s, the vessel continues Austal's strong association with MTU 8000 Series engines, which are widely considered the industry benchmark for high speed diesel engines in terms of power, reliable performance and fuel economy.
The MTU 8000 Series diesel engines offer the world's highest power-to-weight ratio in their power range and are established as the low risk propulsion engine option for many of the world's leading navies and high-speed ferry operators, with more than 160,000 combined operating hours worldwide.
Delivering up to 12,200 bhp (9100 kW) of continuous power, MTU's Series 8000 has consistently set the performance benchmarks for fuel efficiency, less than 190g/kWh, while achieving IMO MARPOL NOx emission certification.
Upon completion of the latest Hawaii Superferry, Austal will have installed a total of 24 MTU 8000 Series diesel engines, proven in operation on six Austal vessels over the past four years. Austal has also installed two 20V 8000 Series MTU diesel engines in its 127 metre Littoral Combat Ship (LCS 2) "", which is being certified in accordance with the ABS Naval Vessel Rules.

Sea trials of the second Hawaii Superferry will be completed in November and December, however the contractual delivery date is not until March of 2009.