Maiden Voyage for China's First Self-Propelled Floating Dock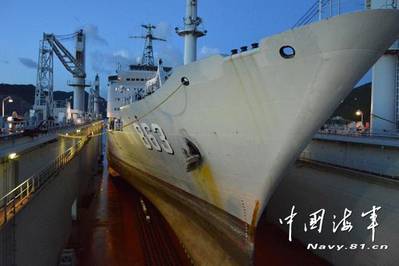 China's first self-propelled floating dock Huachuan I began its inaugural sailing recently, which opens a new era, the official People's Liberation Army Daily said.
With it, large ships can be repaired at sea instead of only on the shore. It can meet repair demand of all Chinese main battle ships
except aircraft carrier
.
The Huachuan No. 1, would enable the navy to return damaged ships to fighting capability "in very rapid time" and was designed to be sent into combat zones.
"The ship's launch marks a further breakthrough in shifting repairs to our military's large warships from set spots on the coast to mobility far out at sea," it added, showing a picture of a warship inside the floating dock.
According to Reuter's report, the dock can handle cruisers, destroyers and submarines, but not aircraft carriers, and cope with waves up to 2 metres (6.6 ft) high, it added.
Beijing has invested billions developing its homegrown weapons industry to support its growing maritime ambitions in the disputed
South China Sea
, the
Indian Ocean
and the Pacific.