First USCG Sentinel Fast Response Cutter Launched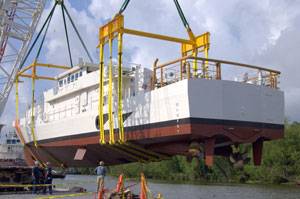 Bollinger Shipyards, Inc. announced the successful launch of the first in class USCG "Sentinel" Fast Response Cutter (FRC), Bernard C. Webber from its Lockport facility.
The announcement was made by Bollinger executive vice president of new construction, Chris Bollinger, "We are pleased to announce the successful launch of the lead "Sentinel" Class Fast Response Cutter, Bernard C. Webber. This is the first of a new generation of multi-mission patrol boats for the
United States Coast Guard
, which will vastly improve their ability to perform their duties. The top notch men and women of the Bollinger family of employees and our partners in the Coast Guard are to be commended on the teamwork and dedication of keeping this program on schedule and on budget."
The
Sentinel class
cutter is 154 feet long and is capable of speeds in excess of 28 knots. The vessels will be armed with one stabilized remotely-operated 25mm chain gun and four crew-served .50-caliber machine guns. The cutters will be able to operate independently for five days at sea, accommodating a crew of 23 members. A state-of-the-market command, control, communications, computer, intelligence, surveillance, and reconnaissance (C4ISR) system will be fully interoperable with other Coast Guard assets as well as those of the Department of Defense and the Department of Homeland Security. The cutters will also have a 40 knot rigid inflatable boat, RIB, which can be rapidly deployed using an innovative stern launching system that was first presented to the Coast Guard by Bollinger aboard the 87 foot Marine Protector Class cutters.
The Sentinel FRC design is based on the Damen Stan Patrol 4708 patrol boat, and the project expertise from the Coast Guard's highly successful 87-foot Coastal Patrol Boat project, also built by Bollinger. The "Sentinel" class will be able to conduct missions, such as ports, waterways and coastal security, fishery patrols, drug and illegal migrant law enforcement, search and rescue, and national-defense operations.
The Bernard C. Webber will be homeported in Miami, FL, supporting vital law enforcement and national security missions throughout the Caribbean and Gulf of Mexico.
Chris Bollinger closed in saying, "The Bernard C. Webber and the following FRC's will be tremendous assets for our Coast Guard. Bollinger is proud to be a part of this program, which will improve the Coast Guard's ability to carry out their traditional and emerging vital missions in making America a safer place for us all."