OIS Expands U.S. Gulf & Mexico Services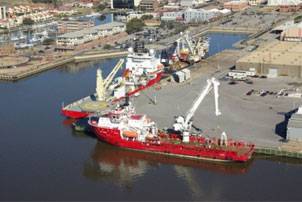 Offshore Inland Marine, Industrial, Oilfield Services (OIS) has expanded their U.S. Gulf and Mexico Services with two new facilities. OIS has opened a new deepwater repair and fabrication facility in Pensacola, Fla., positioned as a Marine, Subsea, and Drilling Support Base. This facility has the following features:
• 2000 ft of deepwater access,
• 9 acres of available fabrication and project lay-down area,
• Over 100,000 sq ft of covered warehouse,
• Large electrical power on site,
• Large selection of cranes and handling equipment,
• Large available workforce,
• One block off of major interstate,
• Closer to the Mobile Sea buoy then Downtown Mobile,

OIS is now operating out of a full service, deepwater support base in Dos Bocas, Mexico which adds to their office in Del Carmen, Mexico. OIS has been very active with subsea and marine fabrication and offshore projects. At this facility OIS handles mechanical, piping, and structural projects onshore and offshore alike as well as full topside drill rig upgrades and specials.

OIS is a full service structural, piping, and mechanical contractor which offers full engineering and design to fabrication to installation and testing on production platforms, drill rigs, subsea and dive support vessels, cargo ships, and on shore plants throughout the western hemisphere and beyond.

OIS is currently operating service centers in Pensacola, Fla.; Mobile, Ala.; New Iberia, La.; Galveston, Texas; Dos Bocas, Mexico; and Doula, Cameroon, West Africa.