Fugro Report 2013 Growth in Subsea Services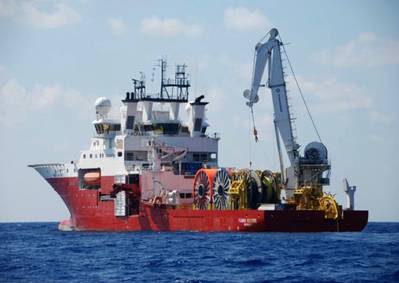 Fugro mention they intend to step up investments in their offshore fleet on the back of growth in subsea services reported in its year 2013 financial report, extracted as follows:

An in-depth strategic review resulted in the updated strategy 'Growth through Leadership', which Fugro explains, builds on the same strategic drivers which are core to Fugro's historic success. Fugro is targeting expansion of its activities in the strong Geotechnical and Survey divisions, leading to a step-up in investments in the vessel fleet in the next years. In addition, Fugro targets profitability improvement in the Subsea Services division, and both growth and profitability improvement in Seabed Geosolutions.

General Highlights
Reasonable performance of Geotechnical and Survey divisions; improving performance of the Subsea Services division (which was reported as part of the Survey division before 2013); start-up losses for Seabed Geosolutions and lower than expected year-end multi-client sales.
Completion of the divestment of the majority of the Geoscience division to CGG for a total consideration of EUR 1.2 billion with a net transaction result of EUR 205 million. The sale was completed in two tranches. The first tranche excluding the airborne activities, was completed on 31 January 2013. The second tranche, the sale of the airborne activities was completed on 2 September.
Establishment of Seabed Geosolutions on 16 February 2013, a joint venture with CGG to which both parties contributed their seabed geophysical activities and in which Fugro has obtained a 60% controlling stake by paying EUR 225 million via a set-off agreement to CGG. Seabed Geosolutions collects geophysical data on the seabed for oil and gas companies.
Starting with the 2013 dividend (to be paid in 2014), dilution resulting from the optional dividend (cash or shares) will be offset through a share buy-back and cancellation of the same number of shares issued as stock dividend.
Composition Supervisory Board and Board of Management; proposals to AGM.

Outlook
The backlog supports achieving further growth in 2014. Corrected for exchange rate effects, the backlog is 26% higher than a year ago. Though most of the backlog growth is in Seabed Geosolutions, the backlog growth for the Survey, Geotechnical and Subsea divisions is a healthy 9%. Recent awards are further strengthening the backlog. Next to supporting growth, the backlog should support stable performance with potential for improvement. For multi-client we expect to see the normal profile for existing libraries develop, whereby the sales will taper off over time, in particular in the next four to five years.
More about Fugro at:http://www.fugro.com/corporate/