Shallow Water, No Problem: HGK Orders Gas Tanker with "Special Dimensions"
Optimized to deal with shallow water levels, a diesel-electric drive system and an extra-wide design for the vessel are the main features of a gas tanker that HGK Shipping ordered from the Dutch shipyard, De Gerlien Van Tiem, on September 15, 2023.
The latest addition to the fleet will enable the Duisburg, Germany inland shipping company to maximize cargo carriage even if water levels are low. "GAS 96" has been developed in close cooperation in line with the requirements of two large chemicals companies in the Netherlands and Germany. The vessel is set to guarantee supplies to both companies from 2025 onwards as part of a long-term charter arrangement.
GAS 96 is the third gas tanker for HGK Shipping, a vessel that combines favorable shallow water conditions with a diesel-electric engine. HGK Shipping was the first company to introduce this combination with an alternative drive system in gas tanker shipping. The latest gas tanker was developed at the company's own design center. The combination of a large load capacity of 300 tons, even if the draft is only 1.2m, with a vessel that is 110 x 15m distinguishes it from everything else that has been operating on the river Rhine up to now. The maximum load capacity is more than 2,500 tons.
"The concept and the design of the GAS 96 are once again consistently geared towards the challenging requirements of the customer with regard to sustainability and having reliable supplies. The design ideally combines the pattern of the 'GAS 94' and that of mega-barges, which have already enabled us to prove that we can transport unusual dimensions along inland waterways efficiently and reliably," said Anke Bestmann, Managing Director, HGK Gas Shipping GmbH.
The new gas tanker is due to go into service during the fourth quarter of 2025.
The hull will be manufactured at a shipyard in Eastern Europe with final structural work taking place at the De Gerlien Van Tiem shipyard in Druten, Netherlands. The loading system on the new vessel will be prepared to possibly transport the hydrogen derivative, ammonia, to help accomodate energy transitions fuels.
---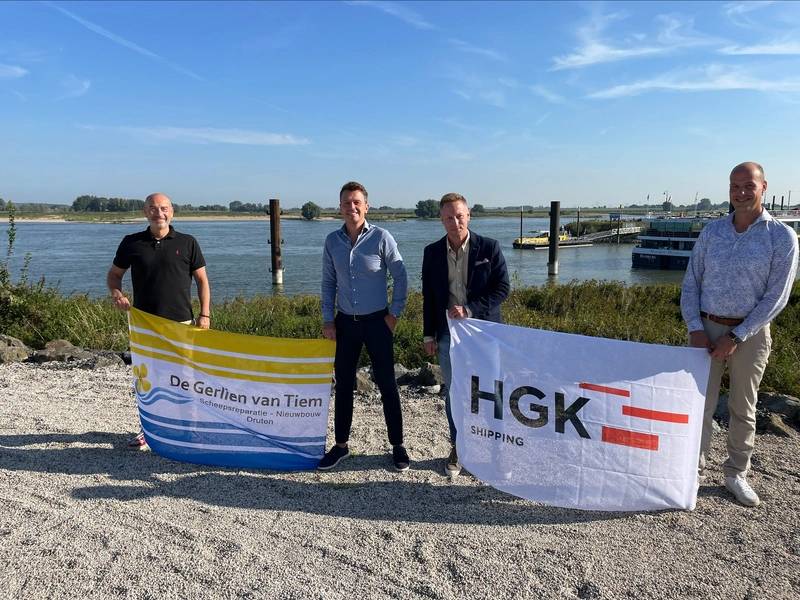 (From the left) Nikolaus Schellenberger, the Head of Fleet Management at HGK Shipping, Eric Rietveld, the Commercial Project Manager at De Gerlien Van Tiem, Tim Gödde, the Director Ship Management and the Managing Director of the Ship Management Business Unit at HGK Shipping, Marcel van Tiem, the Project/Sales Manager at De Gerlien Van Tiem. Source: HGK Shipping