Shanghai's New Cruise Terminal Plans FTZ Link-up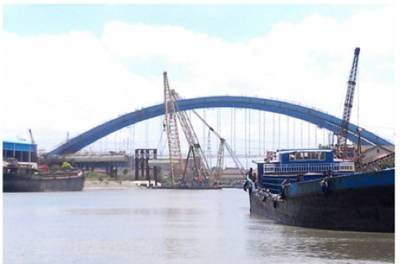 Shangai's Baoshan District Committee aims to see the Wusongkou Interational Cruise Terminal become the flagship cruise terminal in China and even in Asia, by proactively connecting to the new Shanghai Free Trade Zone.
Ultimately, the developers of the Wusongkou Interational Cruise Terminal, Baoshan District, say they intend to expand the definition of what is meant by 'cruise industry', by making the terminal the pioneer of the cruise industry in China.

The Wusongkou Interational Cruise Terminal was approved for trial operation on March 1, 2012. The design of the terminal calls for 1,500 meters of frontage facing the water, including two large cruise ship berths which have already been completed as part of the 774 meters of frontage that were part of the first phase of the project. The two berths can simultaneously accommodate two 200,000 gt cruise ships.

A 514-meter approach bridge connects the terminal with its rear clearance platform. The 23,000-square meter terminal with an annual passenger throughput of 608,000 people provides comprehensive entry and exit facilities for tourists, including the passenger terminal, boarding corridor and boarding equipment and other supporting passenger service facilities.

The second phase will add two more berths and extends the terminal by 736 meters to address the berthing demands of two large cruise ships. The Wusongkou International Cruise Terminal is the largest specialized cruise terminal in terms of capabilities, the size of cruise ships served and passenger traffic. By 2014, the terminal is expected to serve 239 cruise ships and 1.15 million passengers.

Wusongkou International Cruise Terminal chairman Chen Xiqi urges the development of derivative industries and services, including headquarters for cruise companies, marine tourism, cultural and leisure activities as well as high-end hotels to create a true cruise terminal "portal" in China and a global cruise hub port.

The Baoshan District Committee say they will also explore the best ways to set up convenient customs clearance facilities in the demonstration area, including 48-hour visa-free transit and the set-up of duty-free shops and refund offices within the area.

Routes in addition to those to Japan and South Korea in Northeast Asia and to Hong Kong in Southeast Asia, will be launched worldwide from Wusongkou terminal. Wang Hong, secretary of the CPC Shanghai Baoshan District Committee, said Baoshan is actively seeking to become a core part of Greater Shanghai in line with Shanghai's urban development planning.