Shipbuilders Support Collins for Senate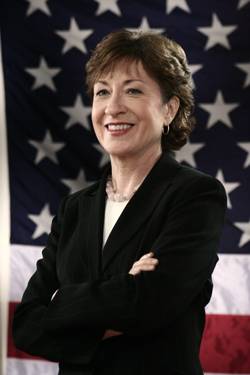 In recognition of her commitment to the men and women who work at Bath Iron Works, a coalition of shipbuilders pledged their support for Susan Collins for re-election to the United States Senate.
As a member of the Senate Armed Services Committee, Senator Collins has supported legislation to provide a continued and steady workload at Bath Iron Works (BIW). Senator Collins has stated that BIW has been, and must continue to be, a central part of efforts to expand and modernize the U.S. Naval fleet to counter existing and emerging threats.
Senator Collins is the only member of the delegation to serve on either the Armed Services or Appropriations committees in the House or Senate.
Recognizing her for helping to defeat the Navy's "One Shipyard" policy, thus protecting jobs at Bath Iron Works, the American Shipbuilding Association presented Senator Collins with its Herbert H. Bateman Award in 2007. This award is recognizes an individual in the Executive Branch, Legislative Branch, or industry who has demonstrated years of consistent leadership in fighting for a stronger shipbuilding industry.