Shipbuilding: Chris Allard, CEO, Metal Shark
Metal Shark has arguably been one of the more active and successful boat builders in the U.S. over the last 12 to 24 months, boasting a strong order book and expanding facilities and portfolio. In particular, the company has been able to capitalize on the burgeoning ferry market, today accounting for about a quarter of its business, as Chris Allard, CEO, explains.
When you look at the ferry business today in relation to Metal Shark's business, what do you see?
Metal Shark has delivered 16 high speed passenger ferries to date with five more vessels currently in process and multiple additional contracts pending. The passenger vessel market is a key part of our business and currently represents about 25% of our annual revenue.
The ferry business has been vibrant in recent years, and as our office is in Manhattan I see your work zipping around our waterways daily! When you look at the ferry market today, where do you see opportunity?
We continue to view the ferry market as robust. The NYC Ferry program was certainly a market driver, and while that program continues to grow, we're seeing growth around NYC outside of that specific program as well. Additionally, as in New York, cities nationwide continue to struggle with the development of critical infrastructure. As long as cities are growing, we see continued opportunities for the passenger vessel market.
Serial Production offers obvious manufacturing efficiencies, but it is not the norm in commercial marine construction. Can you put in perspective the advantages of efficient, serial production for a shipyard?
We have spent many years honing our serialized production methodologies. The process began with our government contracts, where in some cases we build hundreds of identical vessels, turning new units out on a weekly basis. Transferring serialized production to passenger vessels was a logical step for us. From the shipyard's perspective, serialized construction presents opportunities to develop systems, processes, and skills that single-order builds do not afford. Ultimately, they help us to grow and strengthen the company for future serialized, or individual builds. Simply put, the lessons learned, the skills and expertise gained from the volume all pay dividends across the entire company.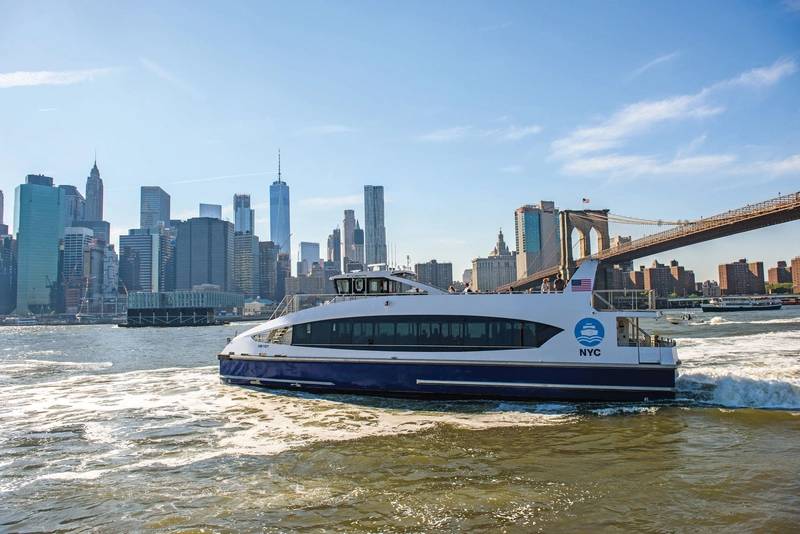 NYC Ferry. Photo: Metal SharkAnd the advantage from the vessel owner's perspective?
In terms of advantages for the client, the main value we see is faster production. Some cost savings are possible, but with materials being such a major component of the build, cost savings of the total platform are somewhat limited. The true value of serialized production as it relates to passenger vessel construction lies in the speed of delivery. Today, a vessel from our serialized portfolio can be built and delivered in about six months, whereas a first-of-kind new vessel or single order continues to hover in the 12-24 month range. The time savings lies not only our construction process, but also in the design, procurement, and process flow we have in place. Serialization also increases quality. The old adage is true that the more you do something, the better you get at it. Serialized production allows the client and the builder to incorporate lessons learned, adapting based on actual usage and experience, and also leveraging the process improvements afforded by serialization. Finally, the logistics, parts ordering, and documentation support of a serialized product are all superior.
We see you have some active partnerships – Incat Crowther, BMT, Damen – to name a few. What is the importance of partnerships in modern vessel construction?
We have partnered with Incat and BMT on multiple passenger ferry contracts each. Working with firms that have the most experience and knowledge concerning these specialized vessels reduces risk for the shipbuilder as well as the client. Our relationship with Damen, while very important to us and fruitful on other fronts, hasn't branched into ferry markets, although we have actively chased multiple projects with them. To date, our close collaboration with Damen focuses mostly on government and military craft.
Naming one relationship as the "most" fruitful would imply favoritism. Each company has their own area of expertise and specialty, and the right partner for one particular situation may not be the best one for another. All of that aside; in terms of dollars and in units, we have built more Incat designs to date than any other.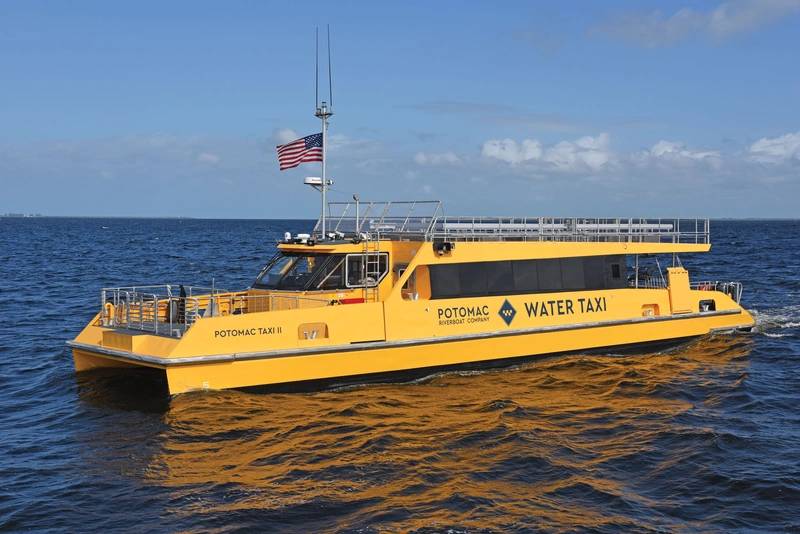 Potomac Water Taxi. Photo: Metal Shark
What do you see as the primary tech drivers in the sector today?
We see two technology drivers here. The first is fuel consumption and emissions; a two-pronged but related subject where operators are concerned about costs. At the same time, there is a perception issue in play. Operators, riders, and the general public are all increasingly concerned about emissions as well. Regulation certainly has lead the charge here, but it is important not to lose sight of growing public sentiment. To varying levels we're see increasing pressure for low-emissions ferries from riders, cities and communities, and operators. Simply put, people care, and increasingly, they are considering emissions when choosing their form of transportation and specific transport provider. We are seeing market forces where people are willing to pay more for "green" solutions.
The second area of technology that we see coming is autonomy. Recently we worked on a joint project with ASV Global (now L3 ASV) to launch our Sharktech brand. Sharktech is a company we created that specializes in the integration and installation of autonomous systems, whether in our new builds or in retrofits. The results of the Sharktech development were eye-opening to us. We generated significant interest across multiple sectors, including interest from passenger vessel operators. While we don't expect to immediately see "autonomous ferries," we predict that autonomous systems will be installed for crew reduction, and that passive systems will be developed and integrated to increase safety. As in the automotive sector, semi-autonomous technology will arrive before full autonomy. With Sharktech we are staying ahead of the curve, and looking forward to the evolution of the technology.