Ingalls Shipbuilding Cuts First Plate for USN's LPD 27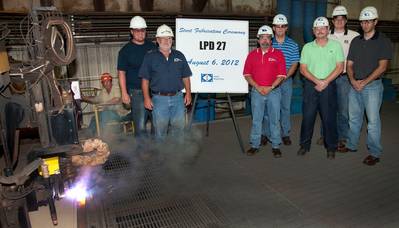 The ship, under construction at Ingalls Shipbuilding division, is the 11th ship in the 'USS San Antonio' (LPD 17) class of ships.
On July 27 2012 Ingalls was awarded a US$1.5-billion contract to build LPD 27. The start of fabrication milestone marks the first 100 tons of steel being cut for units on the LPD 27. The next major event is keel laying, currently scheduled for second quarter of 2013, and delivery of LPD 27 is scheduled for mid-2017.
Six of LPD 27's sister ships, LPDs 17-22, have been delivered to the Navy while LPDs 23-26 are in various stages of construction. Somerset (LPD 25) was recently christened at Avondale.
The LPD 17-class ships are 684 feet long and 105 feet wide and displace approximately 25,000 tons. Their principal mission is to deploy the combat and support elements of Marine Expeditionary Units and Brigades. The ships can carry up to 800 troops and have the capability of transporting and debarking air cushion (LCAC) or conventional landing crafts, augmented by helicopters or vertical take-off and landing aircraft such as the MV-22.
"This is the 11th LPD in what has become a hot production line," said Doug Lounsberry, Ingalls' vice president, LPD program. "Lessons learned and production improvements from all the previous LPDs have been incorporated into LPD 26 and are being rolled over into LPD 27."