Newport News Shipbuilding Opens S.C. Office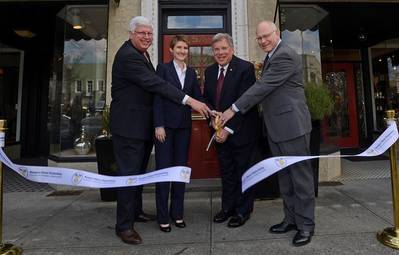 Huntington Ingalls Industries (NYSE:HII) announce that its Newport News Shipbuilding (NNS) division has opened a field office in Aiken, S.C., as part of its continuing efforts to expand the company's business in the Department of Energy and commercial energy markets.
NNS leadership joined community leaders to officially open the office with a ribbon-cutting event (see photo).
HII explain that the Aiken office will provide a location from which NNS will manage jobs currently under contract in the area and pursue additional opportunities in the energy industry. The office will focus on marketing professional services for its current contract at Savannah River Nuclear Solutions and to surrounding areas and will be capable of providing any skill-set necessary to design, plan, construct and test a large, complex nuclear project.

The office will join NNS's growing energy division, which includes Newport News Energy, Newport News Industrial, Newport News Nuclear and the recently acquired S.M. Stoller Corp., a leading provider of technical, environmental, ecological, waste management, remediation and consultation services to private-sector companies and the U.S. government. NNS is also teamed with Fluor and Honeywell on the management and operations contract at Savannah River Nuclear Solutions and provides maintenance services at the Kenneth A. Kesselring site in West Milton, N.Y.

"While shipbuilding remains our primary business, we are expanding our efforts into DoE and commercial energy work, and we believe this new field office in Aiken proves our commitment to growth in this market," said Newport News Shipbuilding President Matt Mulherin.

Pictured at the ribbon-cutting are (left to right) David Jameson, president and CEO, Aiken Chamber of Commerce; Jill O'Donnell, manager, nuclear engineering projects and Aiken field office manager, NNS; Matt Mulherin, president, NNS; and Fred Dohse, executive vice president and chief operations officer, Savannah River Nuclear Solutions (SRNS). Photo by John Whalen.