Newport News Shipbuilding's Apprentice School, 92nd Anniversary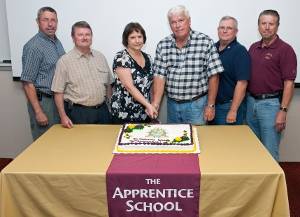 Huntington Ingalls Industries will celebrate the 92nd anniversary of its Newport News Shipbuilding Apprentice School on July1. The school has grown from three instructors and 126 apprentices in 1919 to more than 100 faculty and 750 apprentices today. The Apprentice School is expected to award its 10,000th diploma later this year.
"The Apprentice School is essentially our shipbuilding production leadership academy," said Matt Mulherin, president,
Newport News Shipbuilding
. "Workforce development is critical to our business. Not only are we training skilled craftspeople, we are cultivating the shipyard's future leaders."
The Apprentice School attracts thousands of applications annually and selects 200 to 250 new apprentices per year. The school offers four- and five-year, tuition-free apprenticeships in 25 occupations to qualified men and women. Apprentices work a regular 40-hour week and are paid for all work, including time spent in academic classes. Through partnerships with Thomas Nelson Community College and Tidewater Community College, The Apprentice School's academic program provides the opportunity to earn associate degrees in business administration, engineering and engineering technology.
Newport News Shipbuilding, the City of Newport News and the Commonwealth of Virginia have partnered to build a new, $70 million apprentice school campus that will be located between 31st and 34th streets, bordered by Washington and West avenues. The campus will include an 80,000-square foot school, workforce housing, retail space and a parking garage.
Groundbreaking is scheduled for fall 2011 with plans for completion in 2013. The current school location will be used for other shipyard-related training.
"The Apprentice School is proud of its longstanding traditions and the fact that it produces graduates who are prepared to succeed in life," said Everett Jordan, director, The Apprentice School. "While focusing on the needs of Newport News Shipbuilding, The
Apprentice School finds
itself in a defining decade. Our company and our students are changing before our eyes. The construction of a wonderful new campus will enable the school to continue delivering a quality education and producing the best shipbuilders and graduates for decades to come."