WISTA Russia Formed to Support Women in Shipping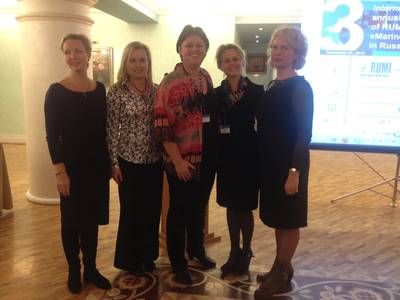 WISTA President Karin Orsel announced the formation and accreditation of WISTA Russia, which has been developed under the leadership of prominent Russian executives. The inauguration of this National WISTA Association (NWA) was held during a post RUMI (Russian Union of Marine Insurers) conference reception on November 21 in Moscow. The Russian National WISTA Association becomes the 33rd Member of the WISTA organization.

"I am proud to be present for the birth of this important WISTA Member," stated Ms. Orsel. "Russia is the largest country and I expect this new NWA to grow as a reflection of that size and strength."

"Russia's adherence will strengthen the role of the organization as a major player in attracting more women to the industry and in supporting women in management positions," stated Founding President of the NWA Olga Lazovskaya .

She observed that Russian shipping had missed out on much female talent in the business and technical spheres. "Women with degrees in law, finance, technical sciences and so on tend not to turn their heads towards this vast industry of shipping, and thus the industry remains almost purely a male sector at present, perhaps to the tune of 95%," she explained. "One of the reasons is that shipping in Russia is quite often associated with work at sea, and most of the employers in the industry here had that sea-going experience in an era when it was considered almost exclusively a masculine occupation".

With networking, education and mentoring in focus, WISTA's core mission is to enhance the competence of its members and empower career success. Ms. Lazovskaya added: "I sincerely hope that with the help of WISTA International and through the functions that we plan to organize, we shall see not only the faces of women in top management positions within Russian shipping, but shall attract the attention of more women seeking a stimulating career, as we provide motivation and support to them to step aboard this exciting industry of shipping."

Founding members include:Olga Lazovskaya – Director of P&I Department at RGS/ General Secretary of RUMI (Russian Union of Marine Insurers); Ekaterina Bykovskaya – founding partner of marine law firm "Flagman"; Svetlana Turazyanova – Deputy Director of Bashkir River Shipping Co; Olga Krigina – Deputy Director of Northern River Shipping Co; Nadezhda Malisheva – Chief Editor of PortNews; and Maria Fedorova – Director of Legal Department at Baltic Mercure Shipping Company.

Women's International Shipping & Trading Association (WISTA) is an international organization for women in management positions involved in maritime transportation business and related trades worldwide. It is a major player in attracting more women to the industry and in supporting women in management positions. Today there are over 2000 WISTA maritime professionals in 33 National WISTA Associations.