Further Turmoil for Dry Bulk Shipping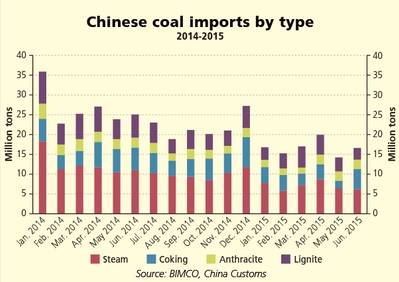 China's demand for coal continues to diminish, so much so that India is expected to surpass China as the world's largest coal importer later this year. According to international shipping association BIMCO, China's consumption of coal accounts for just over 50 percent of global consumption, however only around 5 percent of it stems from imports, making the bulk shipping market very vulnerable to changes in demand. In the first six months of 2015, China has imported just under 100 million tons of coal totally (incl. lignite and anthracite) a reduction of more than 38 percent compared to the same period last year.
BIMCO chief shipping analyst Peter Sand said, "Coal used to be the all-important dry bulk commodity for the better. That was before iron ore entered the stage big time, with China rising to become the world's largest steel producer. Now, coal is back for the worse."
"Currently, overall dry bulk demand is the weakest since 2009 and freight rates gives shipowners few options but to endure. Diminishing volumes as well as dwindling sailing distances for total Chinese coal imports is a drag on the market," Sand said.
China's production of crude steel dropped to 410 million tons in the first half of 2015, 1.3 percent lower than last year. The effect on coking coal imports, a vital ingredient in steel production, is clear. China imported 21.6 million tons of coking coal in the first six months of 2015, 30 percent lower compared to the previous year. Australian producers supply the lion's share of Chinese imports (50 percent) but has faced competition from Mongolian exporters since the beginning of 2015.
Coking coal exports from Australia into China is down 28 percent the first six months of 2015 compared to 2014, meanwhile the Mongolian exports are down 17 percent. In 2014 Mongolia exported a total of 14.7 million tons of coking coal to China, equal to 24 percent of the total. So far this year Mongolia has exported 6.3 million tons of coking coal bringing the share up to 30 percent. The rising Mongolian share is especially troublesome as it produce yet another challenge for the seaborne trades, BIMCO said. Since Mongolia is landlocked and the coal is therefore transported by land.
Around 70 percent of China's energy is generated by coal, but in recent years China has worked intensely toward implementing more renewable energy sources such as hydropower. This has brought a decline in the demand for coal used in power generation. If the trend continues, 2015 could end up being the second consecutive year with a decline in the total world seaborne coal trade.
Longer-haul coal trade from South Africa has disappeared. Jjust as with the coking coal, Australia is a one of the big suppliers of steam coal. Together with Indonesia they account for 87 percent of the steam coal going into China. With diminishing demand from China the share from these countries has gone up, pushing out the smaller nations.
South Africa is a great example. Despite the longer route compared to Australia and Indonesia, South Africa supplied more than 8 percent of the China's steam coal in 2013. By the end of 2014 that share had been more than halved, and by 2015 the shipments had stopped all together. As of now, it has been over a year since a shipment of steam coal heading for China, left South Africa. China's coal trade with South Africa is beneficial to seaborne trade as the sailing distance is twice as long as from the main suppliers Australia and Indonesia.
"The eventual implementation of the free trade agreement between China and Australia will eliminate the tariffs currently imposed on Chinese coal imports," Sand said, "An increased coal trade between China and Australia will benefit seaborne trade as current alternative sources are closer to China and thus involves less transportation by sea."
"On the other hand, as it becomes more favorable for China to import coal from Australia the chances of seeing beneficial longer-haul trades from for instance South Africa, unfortunately become less likely," Sand concluded.