Greece Tops World's Worst Shipping Nation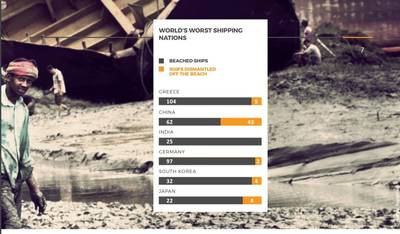 NGO Shipbreaking Platform Annual Report 2016 listed Greece as number one in World's Worst Shipping Nation followed by China.
It may be surprising for a country whose industry is proud of green technology and engineering solutions, but in 2016 Germany was responsible for the worst shipbreaking practices amongst all shipping nations when one compares the size of its fleet to the number of ships broken irresponsibly.
German owners, banks and ship funds had a staggering 97 ships rammed up on the beaches of South Asia out of a total of 99 vessels sold for demolition. That not being enough, close to 40% were broken in Bangladesh, where conditions are known to be the worst.
Greece wasresponsible for the highest absolute number of ships sold to South Asian shipbreaking yards: 104 ships in total.
Since the Platform started to compile data in 2009, Greek shipping companies have unceasingly topped the list of owners that opt for dirty and dangerous shipbreaking. Other major ship-owning countries like Japan and South Korea sent nearly all of their old vessels for breaking in substandard yards on the beaches of South Asia.
Chinese ship owners sold 43 of their Chinese flagged end-of-life vessels to domestic ship recycling facilities, for which they receive subsidies from their government, while still dumping more than half of their old ships on beaches.
India sold all vessels to beaching facilities, 13 out of 25 were sold to Pakistan and
Bangladesh European
ship owners are responsible for more than one third of all ships sold for breaking. The total number of EU-owned and/or EU-flagged vessels dismantled in 2016 worldwide were 328: 274 of these ships, representing a jaw-dropping 84% of all European end-of-life ships, ended up in either India, Pakistan or Bangladesh.
In terms of tonnage scrapped, European-owned ships thus represented more than 40% of all end-of-life vessels scrapped on the beaches.
Out of the 274 European vessels that were beached, only 44 were still sailing under European flag. 19 Europeanflagged vessels swapped their flag to a non-EU flag of convenience just weeks before hitting the beach.
The most popular end-of-life flags amongst all vessels scrapped on the beaches in 2016 were Panama, St Kitts and Nevis, Liberia,
Comoros
, the Marshall Islands and Palau. Palau, St Kitts and Nevis and Comoros are flags that are almost exclusively used by cash buyers at endof-life.