Shipyard: Chantiers de l'Atlantique Enlarges Shipyard by 30%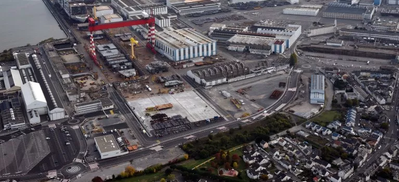 Chantiers de l'Atlantique and the public works company Charier on November 26, 2018 opened the extension of the pre-assembly area which allows a significant increase in the production capacity of the shipyard.
With the work started in July 2017, the yard floor area is now expanded by 17,000sqm, meaning a 30% gain. By lengthening the rail of the 1,400-tonne gantry crane - which is assembling the hull of the large vessels - by 135 m the completed project allows six more mega-blocks to be assembled and outfitted.
"This investment worth €16 million ($18 mln) allows us to move to a simultaneous construction capacity of 22 blocks, compared to 16 previously and thus meet the increase in the current and future industrial load of the yard, " said Laurent Castaing, General Manager of Chantiers de l'Atlantique.