Indian Shipyard Delivers PSV Sea Tantalus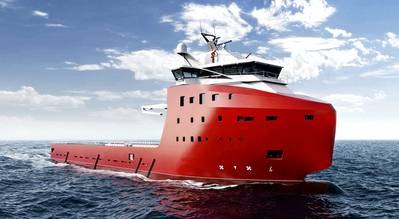 Cochin Shipyard Limited (CSL) delivered the high specification Platform Supply Vessel (PSV) to PSV Holding Inc., Liberia.

Sea Tantalus is a PSV 05L CD type, designed by Vard Group AS, Norway, and is classed by Det Norske Veritas (DNV).

The vessel has been assigned the "Clean Design" notation by DNV signifying the highest levels of environmental compliance, and is the first ship built by CSL to be filled with a ballast water treatment plant.

With dimensions of 82.2m x 17.00m x 7.60m this is a high-end diesel electric PSV equipped with four 1,200 KW diesel generator sets and two 1600 KW input power azimuth thrusters. It also has fire fighting capability to meet Fireighter-1 Notation, as well as the notation Oilrec which allows it to operate as an oil recovery vessel in event of an oil spill.

The PSV has accommodation for 28 persons, and also meets the requirements of COMF class signifying high comfort levels and very low levels of noise and vibration.

The delivery documents were signed by Capt. R.S. Sundar, Director (Operations) on behalf of Cochin Shipyard and Mr. John Arne Johnsen, Project Manager, on behalf of PSV Holding Inc., in the presence of Cmde. K. Subramaniam, CMD, Shri Ravikumar Roddam, Director (Finance), Shri P Vinayakumar, Director (Technical) and other senior officials from CSL.