New Panama Canal Dredger Named in Dutch Shipyard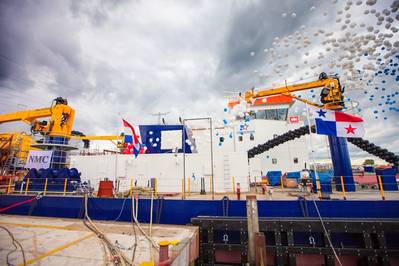 A backhoe dredger built by IHC Merwede was named ALBERTO ALEMÁN ZUBIETA at its associate's NMC shipyard, in Nieuw- Lekkerland, The Netherlands.

The backhoe dredger will initially be used for the expansion of the Panama Canal and subsequently for its maintenance.

The vessel was built by IHC Merwede for Autoridad del Canal de Panama (ACP) and was named by Mrs Ana Matilde Alemán, who is the wife of ACP's former CEO, Mr Alberto Alemán Zubieta. A large delegation from ACP attended the event, including the current administrator Mr Jorge Quijano, his deputy administrator Mr Benitez, the head of the dredging division Mr Gordon, the project manager, engineers and the future captain of the backhoe dredger.


The contract for the design, construction and delivery of the backhoe dredger was signed between ACP and IHC Global Production on 9 April 2011. The keel was laid on 13 December 2011 and the vessel will be transported to Panama in the fourth quarter of 2012.