Italian Shipyard Launches Its Largest Ship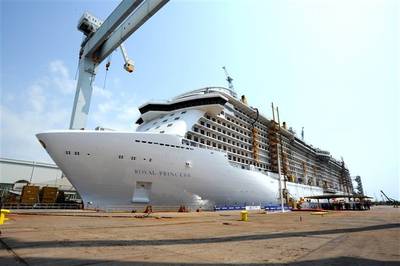 Fincantieri launches 'Royal Princess' the new flagship of Princess Cruises's fleet at its Monfalcone shipyard.

"Royal Princess", at 141,000 gross tons, 330 metres long and 38 metres wide, is the largest ship ever built by Fincantieri. It has 1,780 cabins, of which 1,438 have balconies (81% of the total), and is able to accommodate 3,600 passengers, with total capacity for over 5,600 people including crew.

The ship will be able to adapt to every possible type of cruise, operating from Alaska to Australia, even in environmentally protected areas where navigation is restricted.

Attending the ceremony for Princess Cruises were Alan Buckelew, President and CEO, Rai Caluori, Vice President Fleet Operations, and Stuart Hawkins, Vice President Newbuilding. Representing Fincantieri were, among others, Gabriele Cocco, Executive Senior Vice President Merchant Vessels, and Carlo De Marco, Shipyard Manager. Godmother of the ceremony was Victoria Nash, Captain Nick Nash's daughter, who was christened on board the first Royal Princess.

Delivery is scheduled for spring 2013, while its sister ship, whose construction will start this month at the same yard, will be delivered in 2014.