Conrad Shipyards Earn Two Safety Awards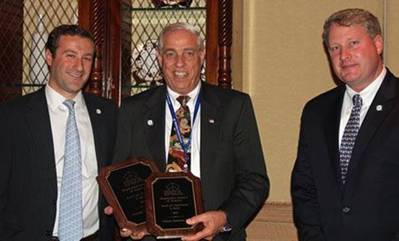 Conrad Shipyard, L.L.C. has received the 2012 Award for Excellence in Safety as well as the Award for improvement in Safety by the Shipbuilders Council of America (SCA). Conrad was one of only five member organizations to receive both awards. This is the tenth time in the past eleven years that Conrad has received the Award for Excellence.

These awards were presented during the Spring General Membership Meeting in Washington, DC, on April 11, 2013.

The Award for Excellence in Safety is given to those member companies that have a Total Recordable Incident Rate (TRIR) that is below the SCA total rate. The improvement award is given to yards that have improved their rate year over year by ten percent or more. The SCA aggregate rate has traditionally been over 20% lower than the industry at large rate.

The awards were presented by Ian Bennit, Manager of Government Affairs and Matt Paxton, President of SCA to Terry Frickey, C.O.O. on behalf of Conrad's employees at their four facilities located in Louisiana and Texas.

SCA members constitute the shipyard industrial base that builds, repairs, maintains and modernizes U.S. Navy ships and craft, U.S. Coast Guard vessels of all sizes, as well as vessels for other U.S. government agencies. In addition, SCA members build, repair and service America's fleet of commercial vessels. The Council represents 44 companies that own and operate over 85 shipyards, with facilities on all three U.S. coasts, the Great Lakes, the inland waterways system, Alaska and Hawaii. SCA also represents 92 partner members that provide goods and services to the shipyard industry.