China Adds 9 Shipyards to Favored 'White List'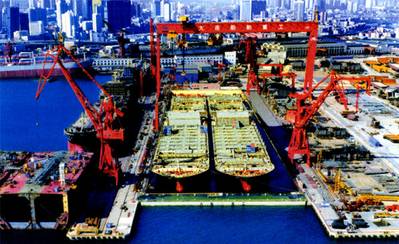 China has added nine shipyards to its "white list" of firms deemed worth of favourable policy support, as it attempts to tackle overcapacity that has weighed on the global shipping market.
In September, it published a list of 51 yards which it later cut to 50. These yards, which it says are judged to comply with requirements such as ship emissions, are expected to get favourable policy support, such as bank credit and export tax rebates.
China has more than 1,600 shipyards and analysts predict that about a third will shut as the industry struggles to emerge out of a shipping capacity glut that has hit freight rates. Last year, it laid out a detailed three-year plan to restructure the industry.
(Reporting by Brenda Goh; Editing by Muralikumar Anantharaman)