Offshore Gas Leak – Experts Board to Evaluate Situation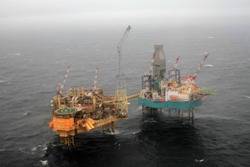 North Sea Elgin Platform safely reboarded by experts to plan a control operation
Total announces that its experts and specialist contractors boarded the Elgin complex and successfully carried out their objective.
In an important milestone toward bringing the situation under control, the team spent nearly four hours on the Elgin complex to gather preliminary information that will be used to assist in preparation for deploying the necessary equipment to perform a well control operation.
The aim of the reconnaissance mission was to carry out a preliminary survey of the leak area, establish zones which can be safely accessed and gather data on the G4 well. The team also sought to visually confirm potential pipeline & hose routing options and tie-in points for equipment required in any well control operation.
A helicopter, transporting three Total employees familiar with the platform and five specialists from Wild Well Control, a specialized well intervention company, took off from Aberdeen and landed on the Elgin PUQ (Process, Utilities, Quarters) before safely returning to Aberdeen.
A comprehensive risk assessment was carried out prior to the mission to ensure optimal safety conditions for the personnel boarding the Elgin complex. Favourable winds allowed the visit to proceed.
Plans are also still progressing for the drilling of a relief well, as well as a backup relief well.