Solar-Powered Mini-Boat Launched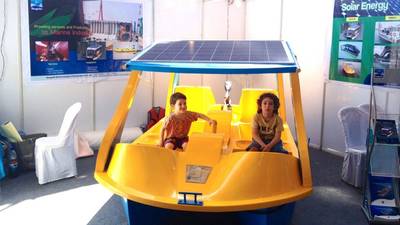 Indian boat builders, Navgathi, launch a compact 4-passenger solar-powered boat, one of the smallest boats of this kind available in the world.

There are two variants of the model, SX and QX. Both of them are of robust construction using FRP (2 layer CSM 450 mat and 1 layer of WRM 600). Only marine grade resin (isothalic) and kerox colour pigment are used for durability and finish. A magnetic compass is provided for ease of navigation. In the premium version in addition GPS and a shore charging facility is provided to use the boat in low light conditions and night.

The particulars of the boat include:
Length 3.6 m
Breadth 65 m
Depth 0.60 m
Draft 0.3 m
Solar power 400 W)
Battery bank 1.56 kWh
Propulsion motor 500 W
Speed 5 knots
On a bright sunny day the boat can cruise at 4 knots for the whole day. The boat has been tested for stability in accordance wiht the Inland Rules of Kerala, India.

The firm is listed internationally as a solar boat manufacturer building larger solar boats and ferries. The Navgathi range included 10 Pax & 20 Pax boats while its Solar Ferries ranges come in 40 Pax and 75 Pax versions. With this launch the firm hope to enter the compact solar boat segment.