Sonardyne Sentinel Diver Detection System for Megayacht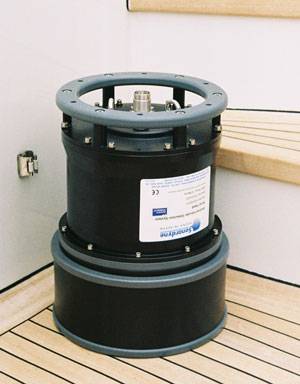 A Sonardyne Sentinel diver detection sonar is to be supplied as part of an integrated security package for one of the world's largest megayachts currently under construction in a European shipyard.

Sonardyne is working with MarineGuard Systems Ltd, the yacht's security systems integrator, to provide a Sentinel Intruder Detection Sonar and an electro-hydraulic through-hull deployment system. This will consist of gate valves, extension tubes, coffer dam and associated ancillaries and will enable the immediate automatic deployment and recovery of the Sentinel sonar array. The installation will be an application of a sonar solution developed by Sonardyne for all types of superyacht and includes through-hull, over-the-side and seabed frame deployment.

Sonardyne engineers will work with MarineGuard and the shipyard during the planning and installation of the through-hull deployment equipment, the subsequent installation of the Sentinel system and the operational sea trials.

This latest contract will be the fifth megayacht to be supplied with a Sentinel system in 2010 with deliveries already having been made in the Americas, Europe, Middle East and Asia.

Sentinel operates by creating a 360 deg invisible underwater screen that provides an exclusion zone extending up to 900m from the vessel. It can be deployed in minutes when the vessel is stationary, at anchor or docked and it can be operated by unskilled crew members for whom no prior knowledge of sonar is necessary. The system includes a built-in test capability to ensure reliability and built-in analysis tools to determine its effectiveness in any maritime environment. Other options include a wireless / network advisory tool that can send alerts of any underwater threat / activity to a Windows-based device anywhere in the world or to simply guide a security craft to intercept the threat.