South Korea to Slash Passenger Vessel Emissions with ABB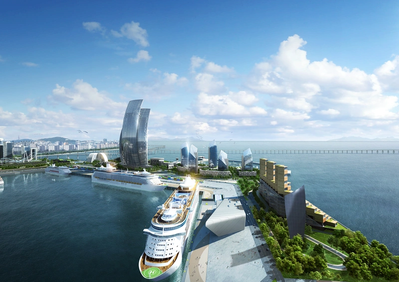 ABB will install Port of Incheon's first shore-to-ship power solution, enabling passenger vessels to cut emissions, noise and vibrations at berth

ABB has secured the contract covering South Korea's commitment to sustainable shore-to-ship power, after a pilot scheme for passenger ships to plug into the local grid received the go ahead from Incheon Port Authority (IPA).
In addition to a new $160 million ferry terminal opened in April 2019, Port of Incheon inaugurated South Korea's largest cruise terminal in June this year. Given its metropolitan location and IPA's ambitions to develop its 'Golden Harbor' vision for Incheon as a new tourism hub for the Northeast Asia, environmental credentials rank highly in port priorities.
ABB's full scope of delivery includes the installation of an onshore power connection at the Incheon passenger terminal consisting of an enclosure featuring a 2000 kVA capacity Static Frequency Convertor with 50/60HZ output, a transformer, a Neutral Grounding Registor Unit and an outdoor enclosure.
ABB's shore-to-ship power technology is proven from the performance and reliability point of view, but also in terms of optimizing the cost of electricity. It has already been integrated by over 50 ports around the world into strategies that reduce emissions overall and incentivize clean shipping.