China Yard Launches Mult-parcel Chemical Tankship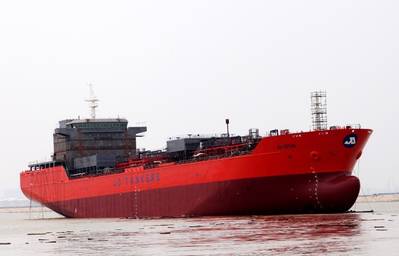 Mingde Heavy Industry has launched what it says is the biggest stainless steel inner-hulled chemical tanker ever built in Asia.
The length of this vessel is 183m, 28.4m in breadth and 15.2m in depth, and a loaded draft of 10m. The vessel is powered by a low speed diesel engine driving a single propeller for unrestricted navigation, with a dead weight tonnage of 30,000T.
This tanker can carry 28 parcels of chemicals, and all of its inner hull for cargo is 2205 duplex stainless steel. Each of the cargo tanks has its own cargo system, which enables her to contain the 28 different kinds of cargo, while loading or unloading 6 tanks simultaneously.

Nantong Mingde Heavy Industry Stock Co., Ltd, incorporated in Octomber 2004, is situated at Wujie Town,Tongzhou District, Nantong, Jiangsu Province, China.