Stanford Hawk to Support Total E&P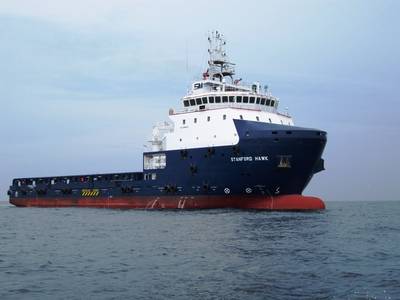 Stanford Marine announced from its Dubai headquarters that it has secured a five-year contract with Total E&P Angola for Stanford Hawk, the latest addition to its fleet.

Total E&P Angola (TEPA) awarded Stanford Marine a five-year contract, with two two-year options, scheduled to commence by the beginning of February 2014. The Stanford Hawk will be supporting the process and storage activities of TEPA, by transporting personnel and cargo, as well as assisting in safety standby duties.

Stanford Marine's GM, Darren Reeves, said, "Having the Stanford Buzzard, an 87m PSV, in East Africa and now the Stanford Hawk in West Africa allows us to strengthen our presence on the continent and provides a platform to deploy more vessels in the region, if the right opportunity arises."

Built by Fujian Mawei Shipyard in China, the 75 meter Stanford Hawk is a DP2 diesel electric Platform Supply Vessel (PSV) with a deadweight of 3,300-ton, a FiFi 1 notation and spacious accommodation for a maximum compliment of 52 persons onboard. With an open deck area of 700m2 and the support of 5t crane, Stanford Hawk is capable of carrying approximately 1,750-ton of cargo on deck. The vessel has under deck capacities of 1,287m3 of fuel, 800m3 of fresh water, 1,538m3 of water ballast, 497m3 of brine and 230m3 dry bulk tanks.

Propulsion comes from four Cummins generators each rated at 1,800kw, delivering a maximum speed of 14 knots. Installed with DP state-of-the-art Kongsberg K-Master, the vessel has the following reference systems: three Gyro compass, two DGPS, one Cyscan, one radius, three wind sensors and three VRUs.

The vessel sailed to Angola after a two week stay in Dubai, where contract specific modifications were completed. These included special removable boat landing and floating hoses.