Statoil Honored in Houston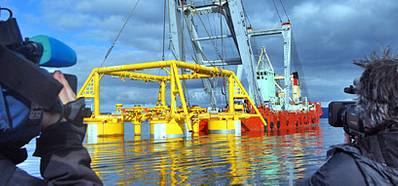 The Tyrihans field was one of five offshore developments to be presented with a Five Star Award at the Deep Offshore Technology (DOT) conference in Houston on Feb. 2. The Statoil-operated oil and gas project in the Norwegian Sea came on stream last July, and has delivered well above its production targets.

Ingrid Sølvberg, vice president within marine technology and operations, accepted the award – given for field developments judged to be the best in the world – on behalf of the group. Tyrihans is the group's newest and most advanced subsea development, and the one well out of five currently in production ranks as its most prolific producer. The daily flow from this well in January averaged just under 34,000 barrels of oil, worth some $2.5m at today's prices.

New technology had to be adopted to develop the field, and specialists in drilling and petroleum technology became involved at an early stage. The downhole equipment used on Tyrihans has been developed in cooperation with Statoil's research centre and equipment suppliers. Three important technological aspects of the project are identified by Roald Sirevaag, chief engineer for subsea technology and operations.
• An oil-dominated multiphase wellstream is transferred from Tyrihans to the nearby Kristin field via one of the world's longest pipelines of its kind, running for 43 kilometres.
• This pipeline is the longest in the world to be equipped with electrical heating to inhibit hydrate formation.
• For the first time, unprocessed seawater is injected via a seabed pump into the reservoir for pressure support and stabilisation of the oil zone.

Due to become operational this summer, the subsea pump represents an innovation and will be powered via a submarine cable from Kristin. Pressure support for Tyrihans is also being provided by gas injection from the Åsgard B platform.

Improved recovery has been a priority on Tyrihans right from the planning stage, backed by good interaction between research and technology development. The latter has helped to ensure that newly-developed well and pipeline technology provides a high recovery factor for resources in the field.