Storm-Bound Charity Vessel on African Voyage Gets Free Paint Job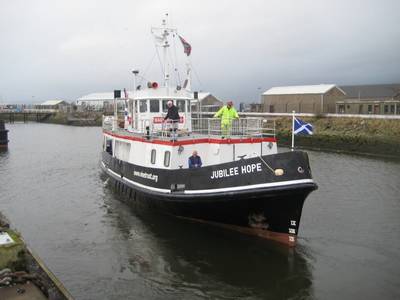 Stormy weather has forced a ship to take refuge in Falmouth, England, on the first leg of its charity voyage from Scotland to Africa, where it will become a medical ship serving isolated communities.
A&P Falmouth shipyard say they are assisting the Jubilee Hope, which set sail from Glasgow and was just four days into her 8,585 mile trip when she arrived in Falmouth. Operated by charity the Vine Trust, the Jubilee Hope is en route to Mombasa, where she will then be transported overland to Lake Victoria.

After being battered by the weather in the Irish Sea, the paint work, including the all-important ship's name, was washed off and needed to be repainted before continuing on the next stage of the voyage. A&P was asked by Iain Murray, Vine Trust Project Co-ordinator, if it would help and the shipyard replied that it was only too willing to agree.
Nigel Best, Paint Manager at A&P Falmouth, said: "We are delighted to be able to help the Jubilee Hope and her crew in this small way and wish her all the very best for their trip to Mombasa. We will all be keeping a close eye on her progress."

Vine Trust is an international interdenominational volunteering charity which seeks to enable volunteers to make a real and significant difference to some of the poorest children and communities in the world. They welcome people from all backgrounds who share their ethos of caring and their belief that whilst they can't help everyone they can all help someone. Currently their Amazon Hope Medical Programme provides a healthcare service for over 100,000 patients annually in Peru through two medical ships, with further expansion planned.

To follow the voyage visit: http://www.vinetrust.org/about/article/jubilee-hope-glasgow-to-mombasa