Drydocks World, DNV, Share Strategic Thinking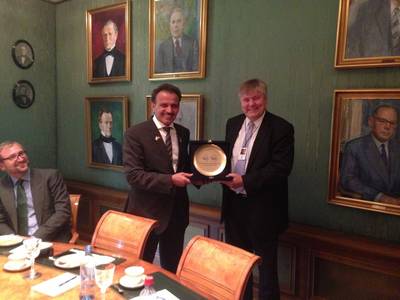 Dubai's Drydocks World & Maritime World chairman in discussions with DNV group CEO on mutual opportinities in shipping.
Chairman H.E. Khamis Juma Buamim held discussions with DNV Group Chief Executive Officer, Henrik O. Madsen at DNV headquarter in Oslo, Norway. The discussions revolved around next-generation shipping, DNV's expansion in Dubai and the region, new business platforms in Africa, emerging issues and avenues of possible co-operation at the international level.
Drydocks World is spearheading industry initiatives such as the 'Dubai Maritime Green Initiative,' which among several projects and programmes also seeks to study the possibility of promoting environmentally efficient and sustainable alternative fuel such as LNG in commercial shipping. The Company is working with DNV and Rolls-Royce in this regard and is keen on developing wider co-operation from industry players.

"We are at the cross-roads. Our industry is recovering from one of the worst recessionary influences in recent memory and this would mean 'we must think out-of-the-box' and arriving at ways to surge ahead despite adverse impact of global pricing structures, new regulations, rising costs of shipping fuel and procuring finance in tough economic times. This would call for greater industry interaction on various platforms and networking among industry peers. Increased cooperation between leaders from various sectors of our industry will help in formulating strategies and business plans for managing risk and global economic variables. We are delighted with the opportunity of discussing pressing issues with DNV, who we consider as an important and strategic partner," said Khamis Juma Buamim, Chairman of Drydocks World and Maritime World.

DNV Group Chief Executive Officer, Henrik O. Madsen, expressed his great admiration towards the new strategic thinking of DDW & MW and how such progressive and innovative thinking will create the required value addition for the industry. He re-iterated DNV's commitment to Dubai and the region and expressed his full support and co-operation for DDW & MW and the Dubai Council for Marine and Maritime Industries.