Strategic Marine Launches Caballo Maya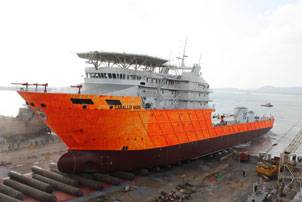 Strategic Marine has successfully launched the first of two 496 ft Dive Supports Vessels, Caballo Maya (Hull 156) in Vietnam. The vessel was launched on the 5th of April, 2010, with the second vessel (Hull 157) approximately 90% complete and eight weeks from completion.

"We were originally awarded the contract for Hull 156 in late 2006, and were engaged to exclusively carry out the steel fabrication works on the vessel," explained Managing Director Mark Schiller. In late 2007 the Vung Tau based shipbuilder was awarded a contract for an additional vessel (Hull 157).

"Around mid-2008, our client took the decision to change the ship design from a direct drive to a diesel electric configuration. Amidst all of these variations to design, we later tendered for the outfit contract for Hull 156, and were successfully awarded the contract in late 2008," he said.

Strategic Marine have now completed all of Hull 156's contractual obligations, the vessel was launched at a weight of 6,800 tonnes.

As originally planned the Caballo Maya will be transferred to Singapore, so that cranes and other machinery can be installed.